Overlap
Wanneer u een vijver gaat maken waarvan de vijverbak gemaakt is van beton, baksteen en dergelijke, kan het zeer handig zijn om de vijverzak hierin "op te hangen". We kunnen de rand van de vijverzak "haaksom" maken zodat u deze op de bovenzijde van de stenen/betonnen rand kunt verlijmen. Hierop kan dan later de randsteen bevestigd worden.
Hieronder ziet u een demo-voorbeeld van een 3Dvijver met aan de onderzijde 2 binnenhoeken met een haakse overlap, en halverwege rechts een buitenhoek met eveneens een haakse overlap.
De hoeken aan de bovenzijde hebben geen haakse overlap maar een "gewone" overlengte. Deze overlengte kun je omvouwen over plaatmateriaal (linksboven) of verlijmen tegen de binnenzijde van de vijverbak.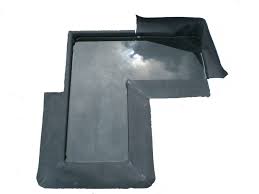 Prijzen
De meerkost van zo'n "haakse overlap" valt reuze mee! Probeert u maar eens onze online vijver generator om de prijs te berekenen voor uw vijver:
Rechthoekige vijver: klik hier.
L-vormige vijver: klik hier.
Ronde vijver: klik hier.
Wenst u een eigen model vijver, met bijvoorbeeld een tussenmuur of trap, ook dat kunnen we voor u maken. Hier kunt u daarvoor een offerte bij ons opvragen.